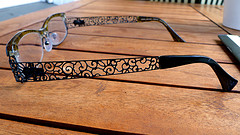 For people who wear eyeglasses for correction of vision, the type, style and feel of their glasses is very important. Today, when it comes to choosing eyeglass frames, there are endless possibilities. There are frames for glasses that match almost all unique preference, style, need, personality, desire and need. The kind of frames for glasses you choose say a lot about your preferences and your personality.
Most people consider their eyeglass frames as the more important features of their wardrobe, thus it helps to keep updated on the lasts eyewear trends. When choosing frames, many consumers take great effort in ensuring that they choose frames that match their personality and unique features. Moreover, many people consider purchasing eyeglass frames as an art. As eyeglasses continue to compete against newer forms of contact lenses and LASIK operations, manufacturers are developing new products to attract customers.
Nevertheless, keep in mind that some eyeglass trends are timeless and you need not spend hundreds of dollars on frames that will only last for a month or two in style. Choose frames that are classic, timeless and fashionable, yet still complements your preferences and features. Keep in mind that trendy eyeglass frames are great, but what is really important is for you to choose frames that you are comfortable with.